Welcome to the U.S. Route 6 Tourist Association ®

Federal ID Number: 91-2136205

NOTE: Money received from a Route 6 State can only be used to support the programs and activities within the State from which it was received. All other donations will be used to support our National - International Marketing Programs on behalf of all the Route 6 States.
Enjoy the beauty and adventure of exploring the Grand Old Highway.

Historic U.S. Route 6 is the oldest, longest and highest of the old roads. The historic Highway is 3,652 miles long, with a high point of 11,990 feet.

It runs from the waterfront in Long Beach, California through 14 states to the waterfront at Provincetown, Massachusetts which is located at the tip of Cape Cod.
Feel free to ask questions.
USRoute6@aol.com
You don't have to live in a Route 6 state to be a member.
The fact is, nearly half of our members do not live in a Route 6 state. They are individuals and car clubs who simply
enjoy the adventure of exploring the old roads.
Let us keep you on the historic alignment!

Donate Today!

Senior high school and college student interns play a major role in our programs and activities.

We are all volunteers, either retired or keeping our day jobs. Mentoring is the most rewarding part of what we do.

We definitely could use your financial tax deductible support!
Meet Aprylle Gilbert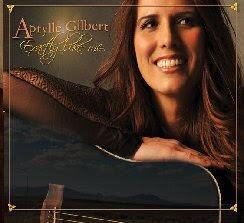 Recently Aprylle was appointed to the position of Ambassador at Large on behalf of the U.S. Route 6 Tourist Association. Many of you may remember Aprylle as the lady who in 2015 ran all 3,652 miles of the Grand Old Highway from the waterfront in Long Beach, California to Provincetown, Massachusetts which is located the tip of Cape Cod. She made the run to raise money for a youth center in her home town.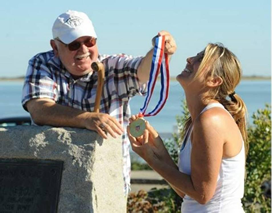 Above; Don Doucette our Executive Director for the State of Massachusetts presenting Aprylle the President's Volunteer Service Award and Gold Medal.

The U.S. Route 6 Tourist Association provided the logistics for this historic coast-to-coast run. Should you have any questions or wish to contact Aprylle; Email: US6NEWS@aol.com

VIDEOS

Aprylle Gilbert: Coast to Coast for Kids | City of Lancaster - YouTube

Aprylle Gilbert Arrives in Provincetown on Vimeo-Video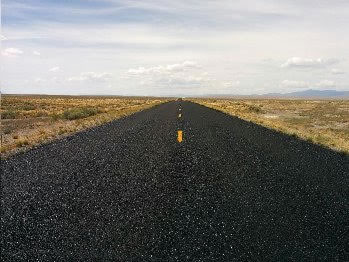 U S Route 6 Long Beach Cape Cod August 2015
Photos and Text by Ray Fowler
A high school student tour through McKean County, PA.

Turn on the sound and enjoy the video.

Take 6 - Route 6

Join the Route 6 Team!
Membership Application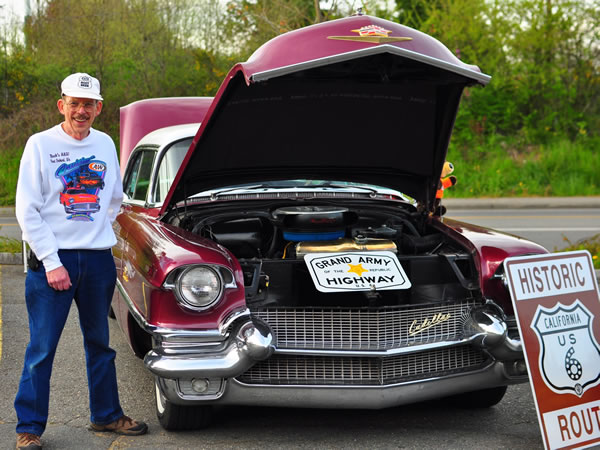 Russ Lombard with his 1956 Cadillac Coupe deVille at the local A&W Cruise. Russ lives in Port Orchard, Washington.
Pictures by Mimi Fassio - April 06, 2016
(Above & Below)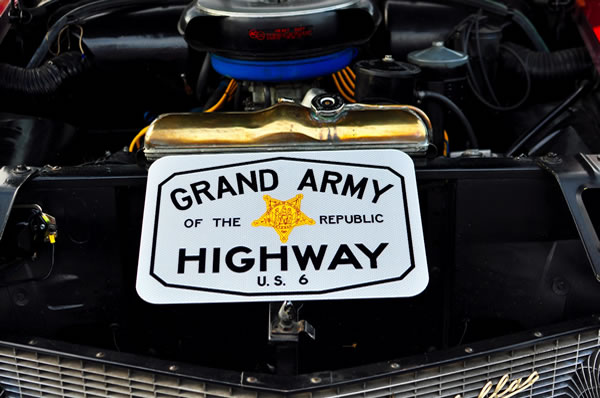 What's New!

Welcome Gary Hunter, Executive Director of our new state division >
Ohio U.S. Route 6 Tourist Association
.
(You can now visit the Ohio Facebook and Happening pages.)
Gary L. Hunter

**********************************
Only with your financial support can we preserve the history of the Grand Old Highway aka the Grand Army of the Republic (Memorial) Highway. Become a member or donate today! We are a
Not-for-profit IRS 501 (c) (3) "Public Charity".
Fed. ID: 91-2136205

Membership Application
The oldest, longest and highest of the old roads!
*******************
US ROUTE 6
IN THE NEWS!

The 5 Best Things to See on U.S. Route 6 - Yankee Magazine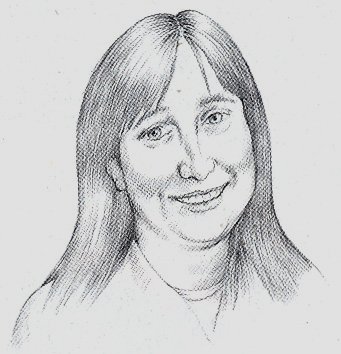 By Malerie Yolen-Cohen
What's New!
On August 14, 2018
the Board of Directors officially appointed
Roger C. Bratt to the position of Vice President - Program Development.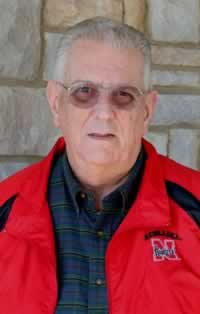 Roger loves history and is the Webmaster for the Ashland Historical Society in Nebraska. He will be working with and coordinating programs and activities between the current state divisions. He will also be working on establishing new state divisions of the National Association. Roger would be your contact person if you are interested in a state leadership role with our Association.

Email: USRoute6NPD@gmail.com
ALSO
Meet Kim Koyle who has recently been appointed as our
Director of Economic Development (Cultural Preservation).
Kim is a talented graphic artist with interest in Audio-Visual productions.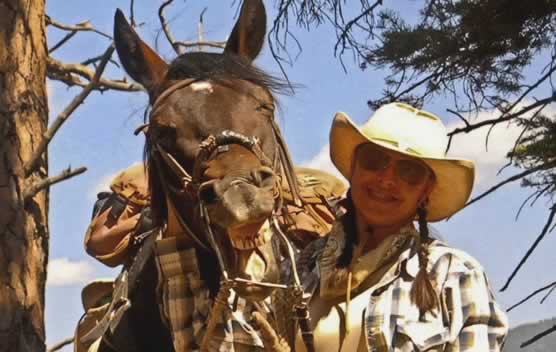 Kim has a passion for preserving our American Heritage. Her goal is to assist communities in making their dreams into reality.

Her current project is Eureka, Utah.

Here is an example of some of her before and after graphic art.

Eureka, Utah | Facebook

To learn more you can contact Kim at; Utah@route6tour.com
Kim - Roundup time at the Ranch!

***********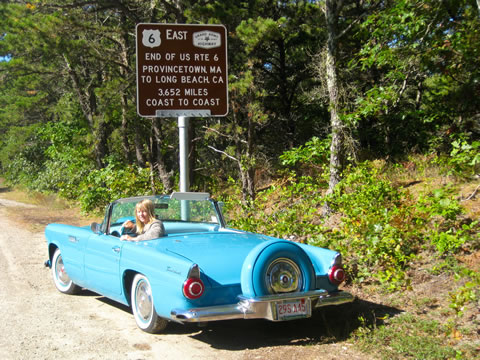 Meet Nancy Bloom in her 1956 Thunderbird - Nancy and her husband John will took part in the Historic Route 6 Cruise on the weekend of October 6-7th 2012. Soon we'll have a 2013 Historic Route 6 Cruise picture.

For information about the 2013 Cruise visit;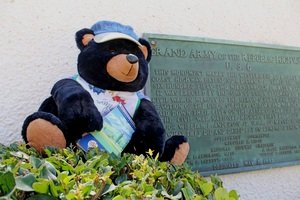 Meet Wellfleet, the Mascot of the
Wellfleet is holding a 1959 Chevron Western States map as he tries to pose at the historical west termination point of U.S. Route 6 in Long Beach, California.
Join the adventure of exploring the old roads!
John Buchanan departed yesterday August 19, 2013 on U.S. 20 from Boston's Kenmore Square to travel across the U.S. to Newport, OR. Then, south via the Pacific Coast Highway to Long Beach, CA and then, east on U.S. Route 6 to Provincetown, MA.
********