Welcome to the Iowa US Route 6 web page!
(National U.S. Route 6 Tourist Association® - Established in 2001)
Whether you would like to learn more about America's longest and highest highway, or become a part of our team of volunteers you've come to the right place!

The U.S. Route 6 Tourist Association is a National Not-for-profit IRS 501 (c) (3) Public Charity dedicated to the cultural preservation and economic development of inner cities, small towns, and rural communities located along all 3,652 miles of the Grand Old Highway – Route 6.

A SPECIAL EVENT!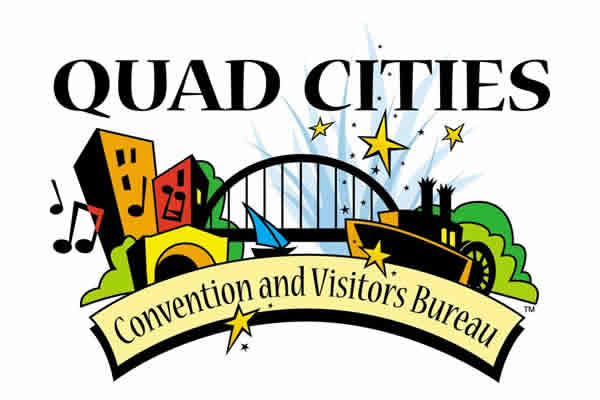 Visit Quad Cities • Quad Cities Convention & Visitors Bureau

Quad Cities Restaurant Week

February 25 - March 3, 2019

www.qcrestaurantweek.com

* * * * * *

The "class photo" of the "All The Way" group of the
2018 River to River Retro Road Trip Cruise (in Co. Bluffs IA

o

n SEP 15th)
*********

Welcome to Brooklyn, Iowa
aka
The Community of Flags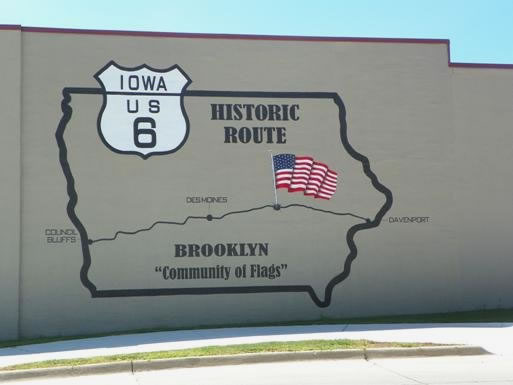 Thanks to Rusty Clayton, President of the Brooklyn True Value Hardware Store, he was able to have this mural painted on the side of his building with community financial support. The painting was done in 2015 by local artist Scott Hawkins. Historic Highway U.S. Route 6 passes right thru downtown Brooklyn. Travelers from around the country come to have their pictures taken beside the mural.
Mural Update, Brooklyn, Iowa - September 2018
Welcome the Grand Army of the Republic (Memorial) Highway Sign
to Rusty's Mural in Brooklyn, Iowa.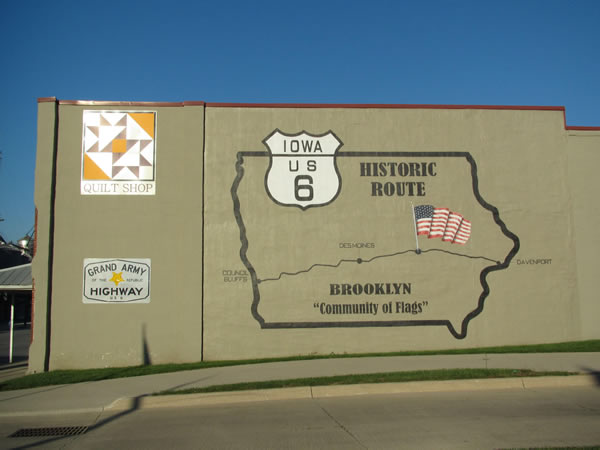 Picture Time!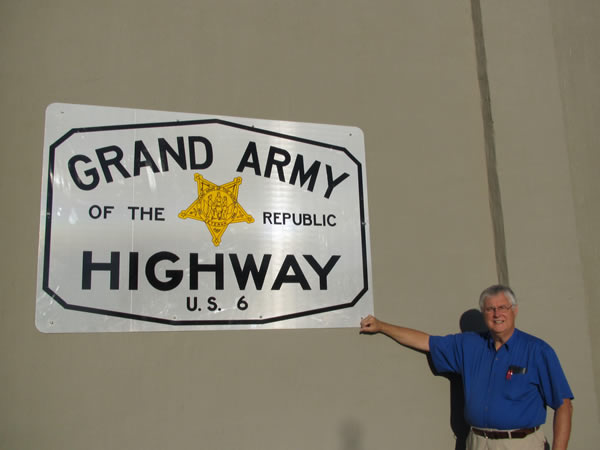 Rusty Clayton standing beside the new addition to his Mural - September 2018


(

One Big Sign - 4 ft. X 6 ft.)

* * * * * *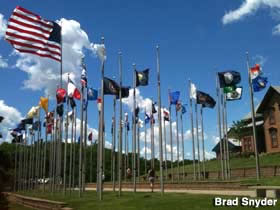 RoadsideAmerica.com


Brooklyn, Iowa's main flag display. A proud tribute to the entire country.

* * * * * *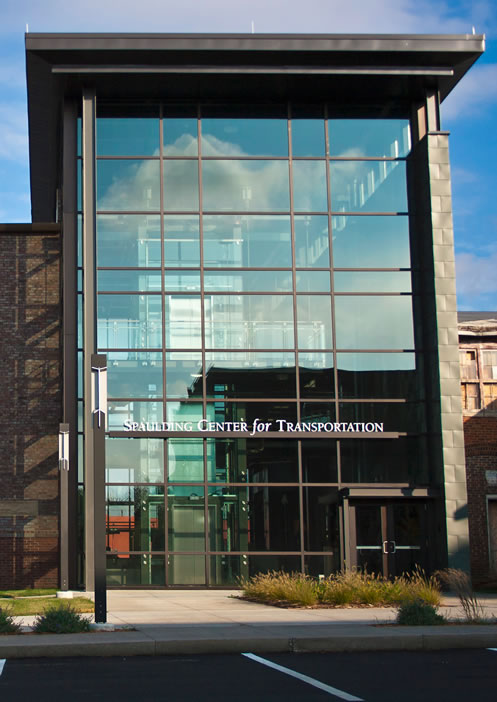 IN THE NEWS!!

In The News
Victor Joins the Effort
to Re-Introduce
Historic U.S. Route 6 to the Nation
(Warrior Tribune - Victor, Iowa)
Click thumbnails to view full size PDF files of the image.
Welcome Michael Sharpe
Mike is now the Coordinator for Western Iowa.
Congratulations!!

Meet Mike Sharpe

Mike Sharpe, retired USArmy/Iowa National Guard, is a native of Virginia but has lived in Red Oak in SW Iowa for 38 years. Having traveled extensively during his military career he developed a strong interest in the history of areas where he was living. While living in California, he traveled the backroads through the foothills around San Jose, California as well as major highways such as US Highway 101 and the famous Highway 1 along the California coast. He has driven Historic US Route 66 in its entirety..Chicago, Illinois to Santa Monica, California. It's only natural for him to be interested in Iowa highways as well, especially Historic US Route 6 crossing the entire United States.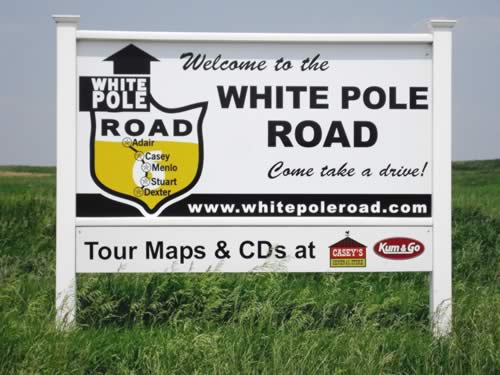 Enjoy a motorcycle ride along the White Pole Road.
(A portion of the original pre-1956 U.S. Route 6 alignment in Iowa.)
IN THE NEWS!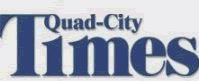 March 2013
New Member of the Iowa Route 6 Team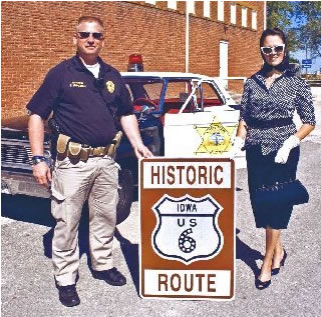 Paul Kuhlman, Jasper County Coordinator with Route 6 Iowa's official spokesmodel, Angela.
Paul Kuhlman is a native Iowan, originally hailing from the Cedar Rapids area. In addition to being a military veteran, Paul has been a police officer for over 20 years, the past 10 with the city of Colfax. He is active promoting traffic safety and holds an instructor certification in the area of impaired driving. Helping to promote traffic safety, Paul is active in attending community events/celebrations/parades where he uses his departments restored 1964 Ford Galaxy Police car, sometimes even on a statewide basis.
With US Highway 6, both original and re-aligned, traversing Colfax and Paul's strive to promote traffic safety (especially with his Dept.'s vintage patrol car), it was a natural progression for Paul to become involved with the US Route 6 Tourist Association. But that's not Paul's only interest in Highway 6, a self-admitted history nut, he fondly recalls family trips and memories of some of Iowa's forgotten roadways, as well as enjoying Iowa's beauty and scenery that is afforded by traveling these roads. He feels that all too often in our lives we're in a hurry to get where we are going, rather than to realize that the trip can be part of the enjoyment. This highway is rich with history and it is important to take time to reconnect with our past, slow down and enjoy the communities that once sustained our state and in fact our whole country.

*******************************************
New Member of the Iowa Route 6 Team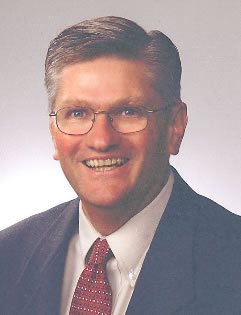 Rex E. Brandstatter, Program Coordinator
with the Iowa U.S. Route 6 Tourist Association
in Coralville / Johnson County.
" I grew up on Highway 6 right here in Eastern Iowa. When I was a kid in the 60s, my Mom would say, 'you can go anywhere in town, supper is at 6 PM and don't cross the Highway!" That highway was U.S. Highway 6, now known as Historic U.S. Route 6."
"Today my real estate office is located on Historic Highway 6 and I drive it everyday of the year. Back in the 1920s, 30s, 40s and 50s, my Grandfather was the local Town Marshall and he patrolled the 'old road' in his police car. I have walked, ridden a bike and driven a car along every inch of Highway 6 here in my town and County. Having the chance to help it be designated as Historic Highway 6 is a great opportunity. I am excited to be a part of the Highway 6 Tourist Association. After all, we are ON Highway 6 to this day!"
Rex E. Brandstatter - Facebook
ACTIVITY UPDATE
********************
The movement to sign the original two lane alignments in Iowa is gaining momentum! Soon there will be no reason to drive on the Interstate to follow Route 6!

January 5, 2013 > Today was a great day for Poweshiek and Iowa Counties. Business leaders and the Poweshiek County Supervisors met with members of the U. S. Route 6 Tourist Association to write a grant request to cover the cost of Historic Route 6 markers / signs to be placed from D Ave. west of Ladora to the boundary of Poweshiek County, west of Grinnell. The cities of Victor and Brooklyn will be back on Route 6 for the first time since 1956!
********
Iowa activity update - June 21, 2012
Wilton-Durant Advocate News RE: Meeting June 14, 2012.
Old 6 gets its proper name back : Quad-City Times: Quad Cities, IA/IL
*************************************************************
Historical Iowa Transportation Maps
1919 - 2010
Official State of Iowa Transportation Maps

*****************************************************************
MISSION

The U.S. Route 6 Tourist Association is a Not-for-profit IRS 501 (c) (3) "Public Charity" Corporation dedicated to the economic development and cultural preservation of inner cities, small towns and rural communities located along all 3,652 miles of the Grand Old Highway.
NOTE: We are currently all non-paid volunteers, either retired or keeping our day jobs. Some of our student interns have worked their way up to the position of Executive Director. The Association covers all expenses related directly to Association activities.