California

U.S. Route 6 Tourist Association
A Division of the National U.S. Route 6 Tourist Association,
a Not-for-profit IRS 501 (c) (3) "Public Charity".
Dedicated to preserving our American Heritage and Economic Development on behalf of inner cities, small towns and rural communities located along all 3,652 miles of the Grand Old Highway.
SPECIAL ALERT!
Cities of Glendale, Burbank, Los Angeles
and the County of Los Angeles

Evacuations Ordered, 210 Freeway Closed Due to Wind-Driven Wildfire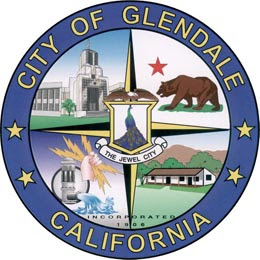 La Tuna Canyon Wildfire Shuts Down 210 Freeway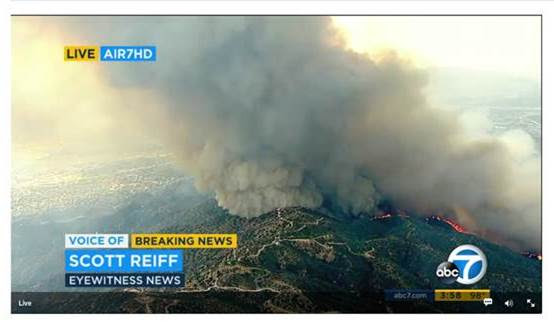 This is an informational notice brought to you by the City of Glendale.

A wildfire erupted in the La Tuna Canyon area of Los Angeles from the brush surrounding the 210 Freeway. The Cities of Glendale, Burbank, and Los Angeles have all responded, along with the County of Los Angeles. Five Glendale Fire Engine Companies and a Battalion Chief have been sent to assist.

Glendale Police Officers are being held over and additional officers are being recalled. They are assisting the California Highway Police in shutting down on-ramps along the 210 Freeway in Glendale -- all traffic is being turned around. Once on side streets, don't expect to go anywhere fast. Best case scenario: don't even think about driving through the area. A very large air attack (water drops) is being brought forth by allied agencies. The fire has made it to the top of the Verdugo's.

For live updates, follow the City of Glendale on Facebook or Twitter.

Be advised: heavy smoke is dangerous to inhale. If you're in the area, keep your windows closed. At the same time, the high heat conditions can lead to surges in power usage, which can overload City power supplies, and cause outages. GWP does not expect any issues, but to stay informed, follow @COGWaterPower on Twitter. City Cooling Stations are also available if needed.


Don't wait until it's too late, sign up for Glendale's Emergency Alert System.

Always be prepared for the "Big One." It is preparation for instances like this too.

For emergency preparation guides, click here.
A Family Event!



Saturday, October 28, 2017 | 1 - 5 p.m.

The BLVD between Sierra Highway and Genoa Avenue
BooLVD - A Family Friendly Halloween and Harvest Festival | City of Lancaster

HAPPENINGS
Antelope Valley Fairgrounds
Lancaster, CA

and
Antelope Valley Fairgrounds - Lancaster, CA
A Happening in Glendale
Wednesday, August 23, 2017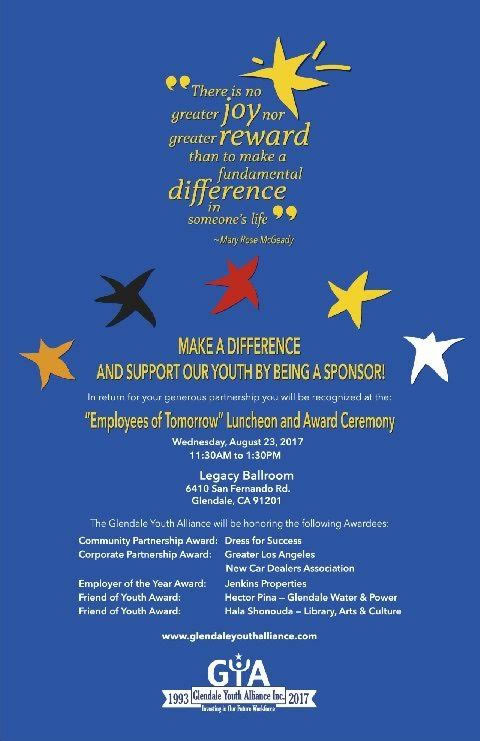 About Glendale Youth Alliance, Inc.
Glendale Youth Alliance - YouTube
A Happening in Lancaster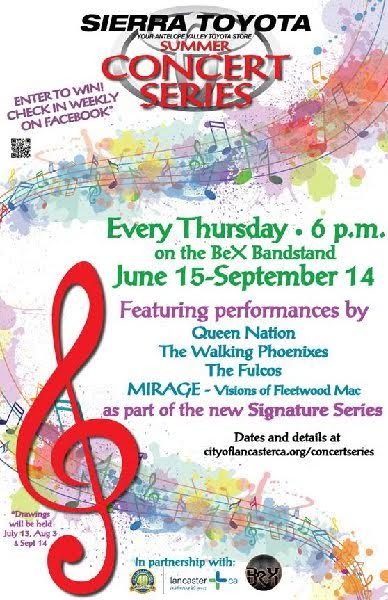 City of Lancaster
Summer Concert Series
In addition to these remarkable headliners, you will find an array of talented bands performing throughout the summer. Be sure to check out the Concert Series website for the latest details, and check in via Facebook (https://www.facebook.com/SierraToyotaConcertSeries) on Concert Series nights for a chance to win great prizes. All patrons who check in and tag the Sierra Toyota Summer Concert Series each week will be entered into drawings that will be held on July 13, August 4, and September 14. Stay tuned to the Facebook page for updates.

IN THE NEWS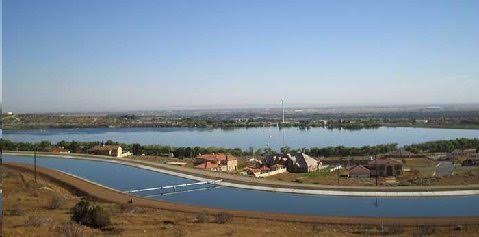 View from Lamont Odett Vista Point off northbound Highway 14 as it descends out the Angeles National Forest down the Soledad Pass into Palmdale, entering the Western Mojave Desert. Foreground is the California Aqueduct with Lake Palmdale behind it. Vista Point is less than one mile from where Highway 14 crosses the San Andreas Fault. Just beyond, and adjacent to Lake Palmdale is the Sierra Highway, which is the original alignment of Historic U.S. Route 6.
Palmdale, California
Southwestern Gateway into the
Mojave Desert
By THOMAS FITZGERALD,
Publisher, Freelance Writer and Copy Editor.
Palmdale, California - DesertUSA
Who is Thomas Fitzgerald?
Thomas Fitzgerald is a self-starter and wise time-manager; attributes laying the foundation for the personal discipline and fortitude needed to work-from-home as publisher of a monthly newspaper, and, simultaneously freelance as a writer and copy editor.

Thomas earned an Associate of Arts degree (Communication / Journalism) from Antelope Valley College and was one of two-dozen journalism students selected from among a pool of applicants encompassing California State University and University of California journalism majors statewide to attend "Saturdays at The Times" – a two-Saturday journalism training program sponsored by, and held, at the Los Angeles Times.

Thomas has been writing professionally since 2005, first reporting on political news and later expanding into other genres, leading to the building of a portfolio reflecting versatility across a broad topical spectrum. Thomas' anthology comprises investigative journalism, opinion and commentary, interview, movie review, feature, informative, creative writing, humor, and, sports – credential professional baseball writer covering Major League Baseball's Arizona Diamondbacks' Class 'A' minor league affiliate.

The Political Observer newspaper – aside from the actual printing – is a one-man operation as Thomas sells the advertising, develops ad copy, builds ad proofs, manages two writers, writes copy, copy edits, builds the newspaper (lay-out), designs graphics, and, distributes the newspaper.

The Political Observer newspaper is online at www.Scribd.com/tavpo. Thomas may be contacted via email at editor@tavpo.com, or, by phone at 661.941.4748.

NOTE: Hopefully Thomas will have the opportunity to write about all the great historical places to visit and things to do when traveling the Grand Old Highway throughout California and beyond.

Route U.S. 6: Longest Transcontinental Highway - 1940
Things to do!
2017

2017 Event Calendar | Lancaster, CA | Destination Lancaster
Destination Lancaster, CA



Things to Do - Los Angeles County
Heads Up!!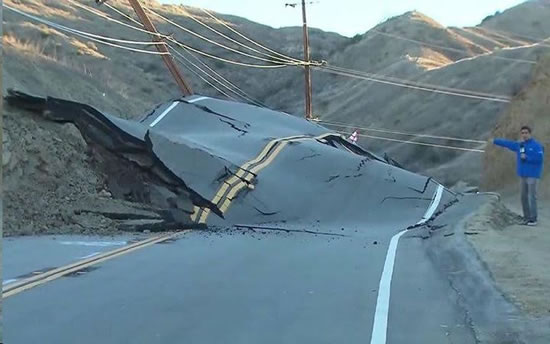 KTLA reporter Mark Mester stands next to Vasquez Canyon Road,
which continued to buckle on Nov. 20, 2015. (Credit: KTLA)
Vasquez Canyon Road is popular with cyclists, and provides additional access for drivers living in northern Santa Clarita areas -- such as Saugus -- and connects Bouquet Canyon Road to the 14 Freeway and Sierra Highway. Traffic was expected to be impacted in the area, including both Bouquet and the Sierra Highway.
The Sierra Highway is a portion of the
Historic U.S. Route 6 alignment.
Landslide Buckles Vasquez Canyon Road; 2-Mile Stretch Closed Indefinitely | KTLA
************************

Owens Valley, California History
by Ray DeLea
(The Historic U.S. Route 6 alignment runs the full length of Owens Valley.)
Special Notice!
U.S. Route 6 Charity Run
2015 Activity Updates
Donate - Coast to Coast for Kids
and
Join the Route 6 Team!
Membership Application - pdf

New memberships will include the balance of this year and all of 2016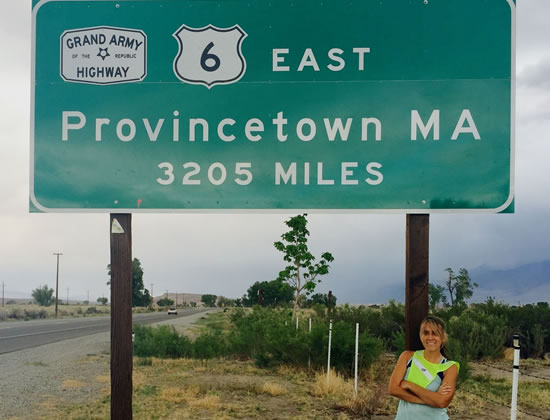 Aprylle standing in front of sign in Bishop, CA


(May 21, 2015)
Only 3,205 miles to go!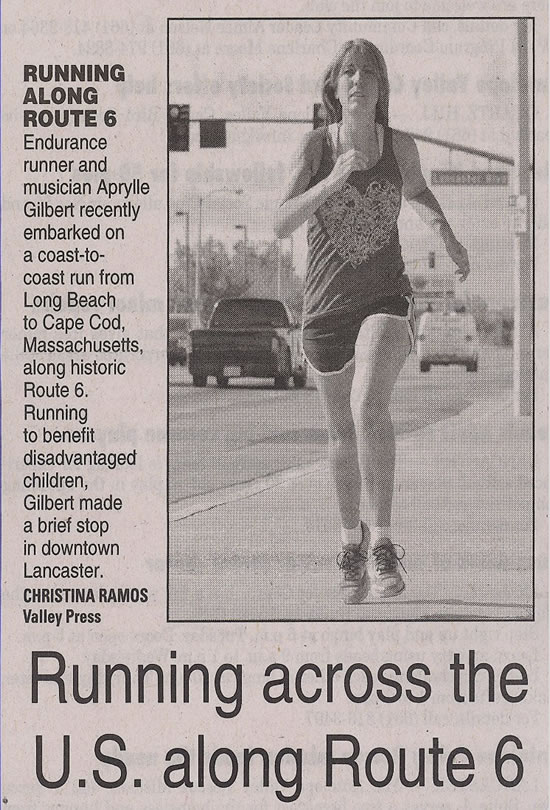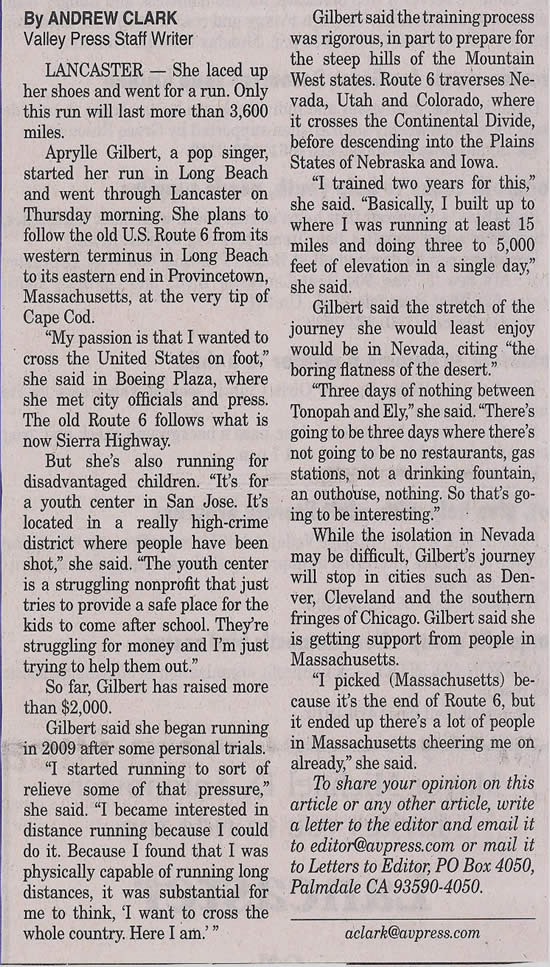 Above - Antelope Valley Press 05-16-2015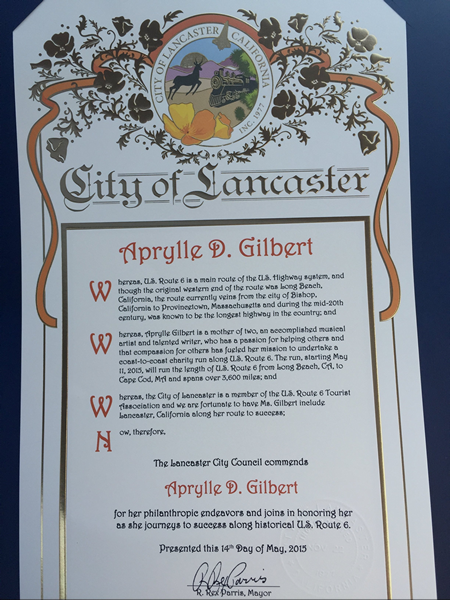 Rosamond, California
"Oasis in the Mojave"




Then and Now
While from these two pictures it may appear our little town has not changed significantly, appearances can be deceiving. The above street scenes depict a portion of the old "main drag", Sierra Highway (part of old US Route 6). Rosamond today is growing primarily east-west along Rosamond Boulevard, which is barely visible as a street intersection in the background of the two photos. The population of "greater Rosamond" in the 1950s was only a few hundred souls; today it is around 18,000.
Rosamond, CA
*******************************

County of Los Angeles

The County of Los Angeles is a founding member of the California U.S. Route 6 Tourist Association. As a member it includes all divisions and departments within.
Below are only a few of many.
Thank you for your on-going support.



Feel free to contact us regarding special events that you would like to have posted on our web site and facebook page.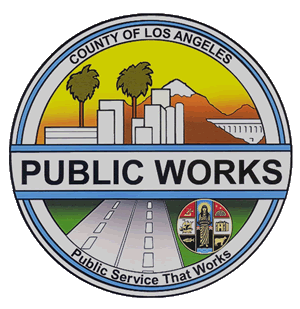 Los Angeles County Department of Public Works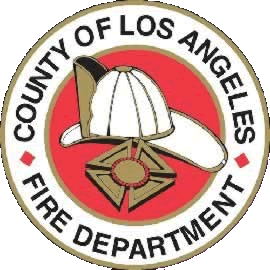 County of Los Angeles Fire Department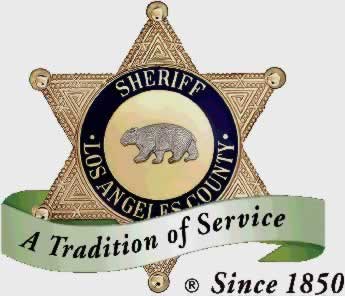 Los Angeles County Sheriff's Dept.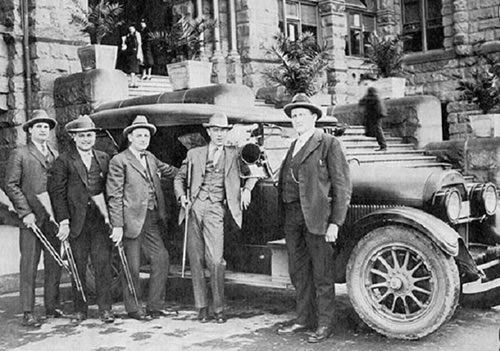 Above: Los Angeles County Sheriff's Dept. 1925

Below: Los Angeles county Sheriff Deputy posing between two Buick Squad Cars - 1932

(Appears that the car on the left is a 1931 Buick Phaeton, and the one on the right is either a 1931 or 1932 Buick Four Door Sedan.)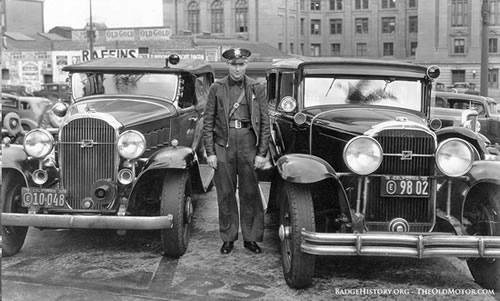 Los Angeles County Sheriff's Museum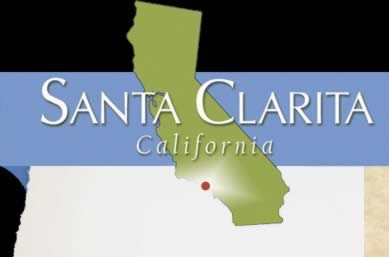 Enjoy Santa Clarita with family and friends!
In Santa Clarita the Historic U.S. 6 alignment is known as the Sierra Highway.
**************************
HONORABLE MENTION
It is the goal of our Association to acknowledge those volunteer organizations that are serving their Route 6 community in a positive way. L.A. Green Grounds in the South-Central Los Angeles area is an excellent example of people helping people. The historic alignment is currently known as Figueroa Street which runs through the heart of South-Central Los Angeles. We are definitely impressed with what your organization is doing.
Meet Ron Finley