25th Annual Glendale California Cruise Night is Open
Cruise Night Registration is Now Open!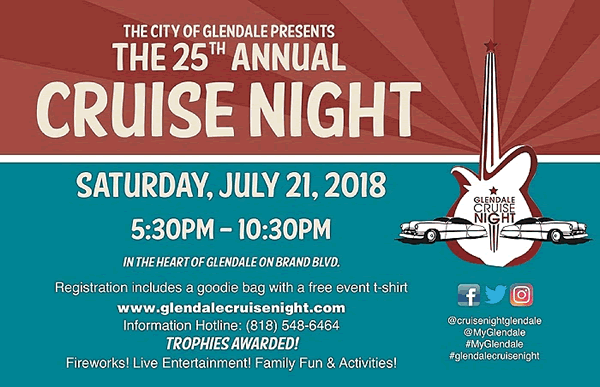 25th Annual Glendale Cruise Night
July 21, 2018
5:30 p.m. to 10:30 p.m. on Brand Blvd.
The biggest event in Downtown Glendale is returning for the 25th
year on Saturday, July 21 at 5:30 p.m. This event is free for all
ages. Come out and see what one of Southern California's largest car
shows has to offer.
Approximately 400 Pre-1980 classic cars and motorcycles will be on
display and participating in the event. The event will include live
entertainment, trophies, a fireworks show, and family fun and
activities.
To learn more,
click here
* * * * * *